PROSPECTUS
Category of Exhibits
Machines,
equipment,
tools,
accessories/
technology
3D Printers,
3D Scanners,
Laser machines for model and tool making,
Machines for rapid prototyping,
Machines for rapid manufacturing,
CT/MRT and image processing machines,
Surface treatment/finishing/surface deposits〔printing〕,
Model and mold making machines/technology,
Service bureau,
Lightweight construction,
Micro technology
Materials
Plastics,
Ceramic,
Metal,
Hybrid/composite/functional materials
Software
3D visualization,
3D graphics and modelling software,
CAD/CAM systems,
CT/MRT and image processing systems,
Digitalization systems,
Simulation software,
Virtual reality software
Device for measurement,
control, verification
Three dimensional measuring devices,
Simulator,
Laser measurement technology and calibration,
Optical measuring technology, sensors,
Measuring and display devices/systems,
Testing equipment
Exhibition fee
Company Area
¥345,600 JPY / 9m²
Public Organizations,
Overseas Pavilions &
University Labs Area
¥172,800 JPY / 9m²
Booth Specifications
1 space = 9 square meters (3m X 3m)
*Side panels are provided when the space borders on neighboring booths. Corner booth spaces include only one side wall.
*The below exhibition fee does not cover costs for booths' installation, dismantling, decoration, cleaning, or waste disposal, nor charges for electricity/water supply and drainage or internet fees.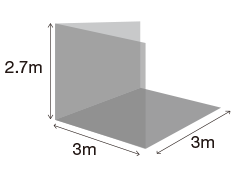 Application to Exhibit
Booth allocation is on "First come, First served" basis.
Please contact us the booth availability and indicate the space number you require in the application form, then send it to the Secretariat by e-mail. Please choose your booth location. Once your application has been processed, your organization's name and booth location will be published on the website within two working days.Please note that applications will close when all spaces are allocated, even if this occurs before the official deadline.
How to Apply
Simply complete the Application Form and send it to the Secretariat by fax or e-mail.
1. Deadline for application
28 September , 2018
2. How to pay
The Secretariat will email you an invoice after your application is received.
Exhibition fees must be remitted by the date specified in the invoice without fail.
Failure to pay exhibition fees by the deadline may result in your application being declined.
3. Cancellations
As a rule, applications cannot be cancelled.
Cancellations are accepted only when the Secretariat deems it unavoidable. In such cases, penalties may be incurred according to the date the written notice of the cancellation is received.
Schedule
| | |
| --- | --- |
| 28 September , 2018 | Deadline forbooth reservation |
| End of October, 2018 | Exhibitor's Manual |
| 31 October, 2018 | Deadline for exhibition fee payment |
| November, 2018 | Business matching system opens |
| 28 - 29 January, 2019 | Move in (booth installation) |
| 30 January -1February, 2019 | Exhibition |
Contact
PIC:Masaya Yamagata
Secretariat of TCT Japan
c/o JTB Communication Design, Inc.
Celestine Shiba Mitsui Building, 3-23-1, Shiba, Minato-ku, Tokyo, Japan 105-8335
Tel: +81-3-5657-0760 Fax: +81-3-5657-0645
E-mail : tctjapan@jtbcom.co.jp